October is Down Syndrome Awareness Month, and to mark it, this year I'm participating in the "31 for 21" blog challenge. Click on the button to read all about it and take a moment to visit the blogs of the many other folks joining the challenge this year.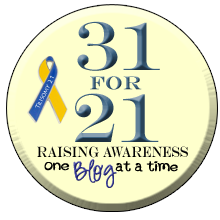 My first post is titled "It Takes a Village..." This is on my mind because last weekend we attended our local Buddy Walk. Thanks to our generous friends and family, Team Anthony raised over $1000 for the
NWDSA
.
On a beautiful fall day, we were reminded how grateful we are to be part of this community.
Anthony's friends and schoolmates came out to have fun and show their support.
Every day these kids live the NWDSA's mission of creating a loving and inclusive community for all people with Down syndrome. When I look at these pictures, I see the future. I imagine these kids as high schoolers, defending a classmate against bullying because they remember their friend Anthony. I imagine an adult in a management position who hires a person with a disability because they know it's nothing to fear.
I look at these pictures and I feel so lucky that we've had the opportunity to make so many new friends during this amazing journey.
People we never would have met if it wasn't for that extra chromosome, but who we couldn't imagine not having in our lives now.
We've met families who've weathered incredibly scary medical crises, handed 4-month-old babies over for heart surgery, learned to navigate "disability world" and everything that goes along with that, and overcome their own fears and misconceptions about disability. We don't take anything for granted anymore and we know that each of us has traveled a rough road and come out stronger for it. As Isaac's dad puts it, we've learned a lot about what it means to live a good life.
Having a child with Down syndrome can be hard sometimes, no doubt. But don't feel sorry for us. We are the lucky ones.